By Darin Chaichitatorn
Published on January 8, 2019
Each time I visit Thailand, my family takes a trip to Rajjaprabha Dam Reservoir (also called Cheow Lan Lake), a three-hour drive from my mother's small village in the south. We'd go hiking, fishing, and kayaking in this vast reservoir speckled with islands and the floating bungalows popular with tourists. The still freshwater lake perfectly mirrors the sky and patches of dense emerald jungle, going on for miles and eventually bleeding into the horizon.
Every visit without fail, my mother would warn me to wear a life jacket: "The water's different here. You'll drown faster." She was referring to the low concentration of dissolved oxygen in the lake, but as a child, I was certain that something in the dam would drag me down with it.
I must have been eight years old the first time I actually remember staying in the dam. My uncle would tease me and my brother and say, "Mi phi yoo nai nahm." That there are ghosts in the depths of the water in the dam built upon the souls of the villagers. Terrified yet fascinated, I'd fasten on one of those faded orange life jackets, inhale as much air as my lungs could hold, and try my best to submerge myself in the water to stare down into the water. I'd look for the lost settlement — the temples, homes, and cemeteries arrested in time. I never could see much. Despite the water's clarity, the sunlight did not reach so deep down.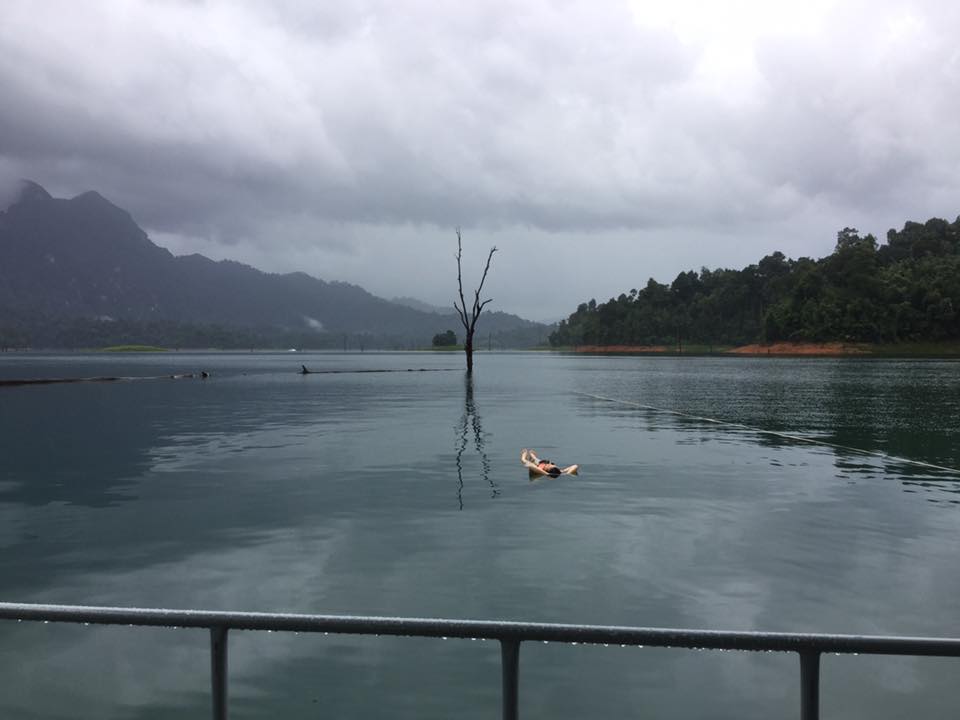 In 1982, the Electricity Generating Authority of Thailand (EGAT) began construction of Rajjaprabha Dam that would last five years. Prior to the dam construction, the rainforests of Khao Sok had high levels of biodiversity creating an expansive and intricate network of wildlife. The forests sheltered pro-communist student activists who escaped the Thammasat University massacre of 1976 — the same massacre my father and uncles narrowly escaped. Khao Sok was home to 385 families.
The dam displaced those 385 families, and despite arduous wildlife rescue efforts, 44 species disappeared soon afterward and more died out over the next decades due to the uninhabitable still waters. My father, fresh out of university, worked on this dam project, and although he and various EGAT reports insist that the displaced villagers were fully compensated and supposedly found their resettlement favorable, none of the longitudinal studies I have found revisit these families beyond eight years after their displacement. None of these EGAT reports mention that resettlement was, in fact, involuntary. The people, their names, their histories, their homes have all been submerged under water, replaced by a few sentences and a handful of vague statistics.
It is possible that the process of resettlement went just as smoothly as EGAT reports, and it is true that EGAT built schools and other public facilities for the villagers. Histories of dam construction, however, often show there is no movement without contention, and residents are not always eager or willing to leave their homes. Dams not only change physical landscapes, but they alter personal ones, too. Dams can signify the loss of traditional livelihoods and subsistence as shown in the many examples of Native American dispossession.
I remember telling my parents that I was afraid of the ghosts in the water, but they reassured me that no one had died during the flooding of the dam. They would emphasize that the sacrifice of the villagers was heroic, that it allowed for countless other homes to receive electricity and, in turn, give opportunities to many more families.
It's been 12 years since I first really looked into those deep waters. Even now, I can't say definitively that my parents were wrong, but when I submerged myself in that water all those years ago, I was certain that I could hear the villagers' last gasps of air taken before their sense of home and belonging drowned in that lake. It's as though their final breaths generated the buzz of electricity.
Rajjaprabha Dam, which translates into "the light of the kingdom," still awes me with its beauty. Relatively high levels of biodiversity persist despite the dam's interference, and thick forests remain resilient on the islands that adorn the lake. I know that I will never be able to see the lost temples and other remnants now buried in the dark depths of the lake, but there are dead trees still standing tall. Their limbs protrude above the surface of the water, waving for attention and serving as hazardous obstacles for boats carrying tourists. These dead trees are the ghosts of the dam, and this reservoir, seemingly beaming with life, is a cemetery.
Works Cited
Church, Jerilyn, Chinyere O Ekechi, Aila Hoss, and Anika Jade Larson. 2015. "Tribal Water Rights: Exploring Dam Construction in Indian Country." The Journal of Law, Medicine & Ethics: A Journal of the American Society of Law, Medicine & Ethics 43 (0 1): 60–63.
Nakhasathien, Seub. 1989. "Chiew Larn Dam Wildlife Rescue Operation." Oryx 23.3: 146-54.
Scudder, Thayer. 2006. "How River Basin Communities Can Benefit From Resettlement." In The Future of Large Dams: Dealing with Social, Environmental, Institutional and Political Costs, 105-106. London: Routledge.
***
Darin Chaichitatorn is a second year student at the University of California, Los Angeles. She is working towards completing a double major in Biology and Gender Studies, and above that, she is frantically trying to find a way to merge her love of both disciplines together. Darin takes pride in her Thai-American identity but is trying to understand exactly what being Thai-American means. Darin enjoys all types of music and cannot go a single day without referring to a podcast she listens to. She also loves to babble about colonialism and how it intersects with conservation biology.