By Liliana Epps
Published on February 1, 2019
The sun is setting on the city
and as I travel through the canyon
my mind moves between your hands in
thinking about two years ago
when you were living in El Segundo,
2004 Gwen Stefani on your radio.
I've stopped listening, but I think I know
everything and anything,
but everything is nothing
and nothing means anything.
So something could be that one thing, I could be your something.
It's strange, I claim you as territory I own.
I moan for you in my proximity, closer than just the next city.
Closer so I can hold your left bicep in the crease
of my hand, so my right tricep can rest on my man.
The butterfly on my navel will rub against him,
so savory.
Saving the taste of when I'll save me.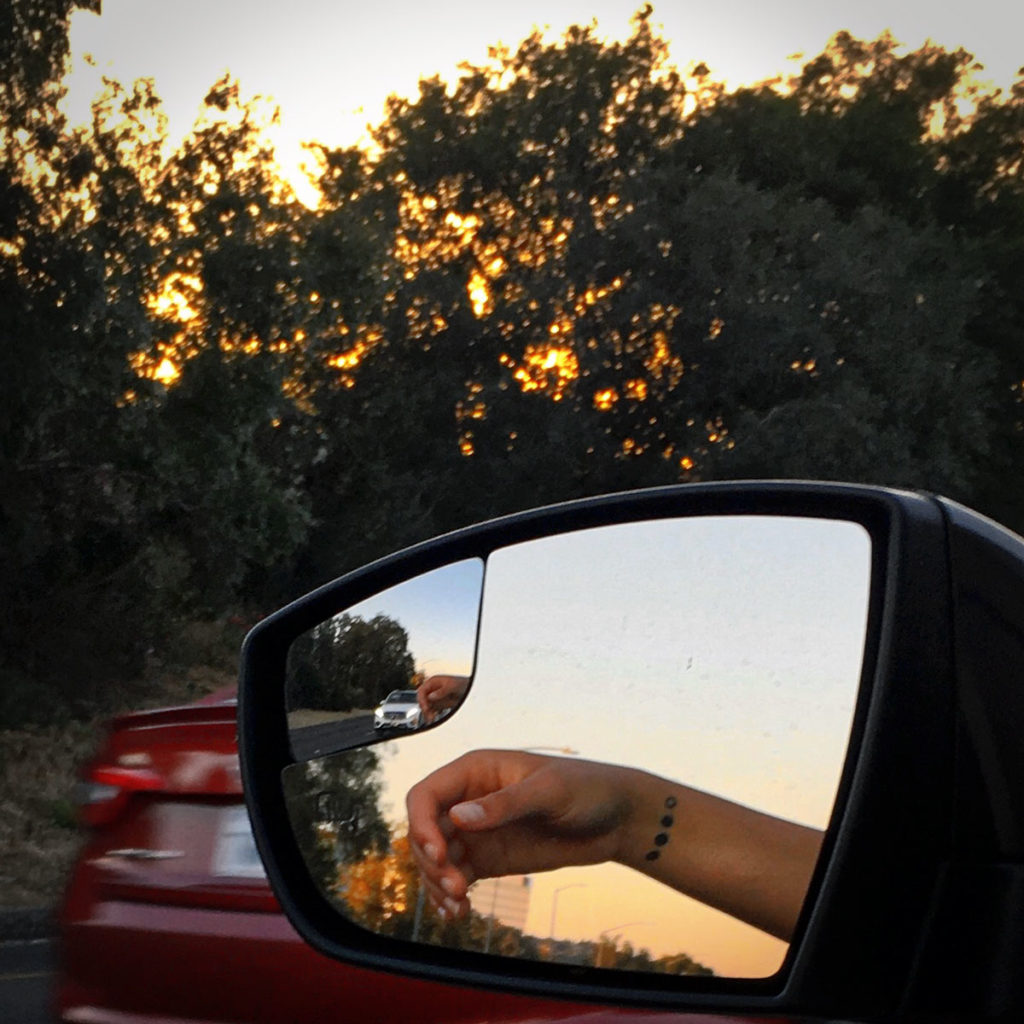 I think all too frequently
why her and not me.
Can't tell if I don't let enough people in
or maybe I let too many in.
My trauma spills out over my teeth,
now there's vomit all over my feet.
I'm so anxious, please let's not meet.
He said, let's wait for a time that doesn't exist.
How is the entire sea infinitesimal to what we have curated between us?
Still I'm driving through the canyon
so much on my mind and
nothing at the same time, can
I enjoy this time in solitude?
Feel wholly alone,
instead of wanting to feel lonely- alone.
Hannah Arendt said there's a difference between the two,
a totalitarian move to make us think they are fused.
Have you listened to the songs I've written
about us?
Have I crossed your mind today?
Was I in it yesterday?
Or the day before?
Was I too much of a bore?
Or did I scare the shit out of you because I'm nothing like you've loved before?
I hate that I love you more.
Moving in this automobile
as an autonomous being, I should feel more mobile.
But as I travel through space,
I time travel our ways in our red place.
My windshield becomes a screen of when I lied in your bed.
The light of red filled the space around us once we were close,
but now, in my car, I scream,, "Why me!"as I cry singing songs I've written about you and I.
My soul can't accept the reject
so on my mind is where you'll rest,
you'll be set.
So that my mind will not forget.
I'm wearing red today.
I feel red today.
So in my head today.
Has the interstate built or ruined the nation?
Empowered or enslaved its population?
Should've read the 1952 Travelguide
"Vacation & Recreation Without Humiliation."
Should that cure my alienation?
I spend time at home
but I don't spend time at home.
Homes of the rich living in homes of the colonizers maintained by homes of the colonized.
The Spanish art before my eyes.
The rows of cars before my eyes.
Wide eyed from the Spanish tiles.
Let me know how far it would take to reach you.
I'll drive any number of miles.
The smell of cars guzzling gas on asphalt,
6 months later and still I ask "Was this my fault?"
Was there a fault in my direction?
A fault in my complexion?
A fault in our connection?
I don't like the way my actions change
When my feelings for someone become a certain way.
Why is it that I feel this need
to make myself show up all over their feed?
To make myself show up all over his feed.
Social network?
More like a social net,
work your hands across my neck.
Strangle me with pics. I bet this feeling didn't cross your mind yet.
Changing myself,
because I don't want to be myself.
Because you said "I just want to be by myself."
So silly me, I should just be myself
but who is me? Who am I?
Self?
Could I get some peace and quiet?
Set like the sun behind the mountains.
Split me apart.
Sun rays shining their last chance at art.
Happiness is when I see
the sun setting on our city
and as we travel through the canyon,
my hands move between your hands. In
6 years we'll go
live in an apartment in El Segundo,
2006 Gwen Stefani on your radio.
I'm always listening, but I don't think I know
everything and anything,
but everything is nothing
and nothing means anything.
So something could be that one thing, I could be your something.
Works Cited
***
Liliana Jeanine Epps is a second-year Gender Studies Major and Geography/Environmental Studies Minor at the University of California, Los Angeles. Liliana's sun is in Pisces and her moon is in Gemini. She is a queer multiracial womxn who has lived in Los Angeles, California her whole life. When Liliana is not studying, planning on-campus events, or working to dismantle the patriarchy, you can find her making music, writing poetry, dancing, or cuddling with her two cats.